Rev. Royal Williams

, Minister of Evangelism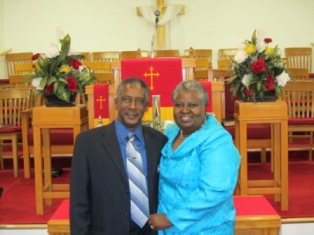 Rev. Royal Williams, Associate Minister, serves as Minister of Evangelism at the Greater Beulah Baptist Church in Baton Rouge, Louisiana. He was called to the ministry in 1996 and was ordained in 2006. Previously, he served as Associate Minister at the New. St. Luke Baptist Church, Baton Rouge, where he was instrumental in starting the Nursing Home Ministry at three area nursing homes. Rev. Williams was also a member of the choir and the male chorus, and a teacher for Sunday School, Bible School, and Vacation Bible School. He is a member of the Fourth District Missionary Baptist Association.
Outside of the church, Rev. Williams is a retired Certified Master Automotive Mechanic with 33 years of service and is now CEO of Williams Lawn Service, LLC. He gradauted from McKinley High School and attended Southern University. Rev. Williams is married to Sandy Williams and they have one son, Terrance, a daughter-in-law, Chimene, three granddaughters and two grandsons.